Christmas at Kew - Off Peak
Kew Gardens, Brentford Gate, Ferry Lane TW9 3AF.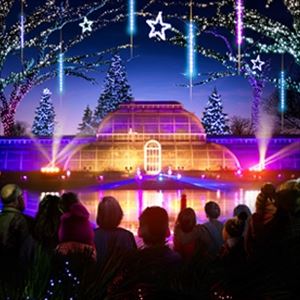 Please be sure that you have chosen the right entry gate, date and time slot at the time of making your booking as Kew and See Tickets are not able to offer exchanges or refunds once tickets have been purchased. We are also not able to offer refunds/duplicates on unwanted/lost tickets.
Select your date from the calendar below. Green = off peak Pink = peak
More information about Christmas at Kew - Off Peak tickets
TICKET INFORMATION

All tickets are subject to a single transaction charge. For tickets booked via www.kew.org/christmas: £2 per transaction for print at home tickets, £2.50 for tickets sent by first class post. £1 when booking tickets in person at Kew Gardens. If you are looking to buy a ticket with a car parking pass (Brentford Gate) then the print at home option will not be available, a physical car parking pass must be sent out in the post.

All patrons (including children under 4 yrs) must have their own valid ticket, which must be produced to gain entry to the event.

Children under 16 must be accompanied by an adult.

If tickets have not arrived, please contact the customer service desk at seetickets.com or call 0115 8960220.
Within 5 working days of an event all tickets will switch to print at home, so no orders will be posted after this time.

Tickets can be purchased online until 3pm on the day of the event, after which time if there are still tickets available, they can be purchased in person from the Christmas at Kew box office from 5pm on the night. However, advance booking is recommended as Christmas at Kew does sell out in advance.

Ticket holders consent to photography that may be used for promotional purposes.

Cancellation, exchanges & refunds

Please be sure that you have chosen the right entry gate, date and time slot at the time of making your booking as Kew Gardens and See Tickets are not able to offer exchanges or refunds once tickets have been purchased. We are also not able to offer refunds/duplicates on unwanted/lost tickets.
Inevitably bad weather can affect any open-air event. If we have to cancel the event as it unsafe to proceed, visitors will be offered an alternative date/time. No refunds will be offered simply if the weather is inclement. Any decision to cancel the event will be taken at 2pm on the day of an event.
If the event is cancelled by us due to weather and patrons are not able to attend an alternative night offered, then a refund will be considered on a case by case basis.
Where a refund is due, the ticket must be returned within 28 days of the event due date.

Visit Kew in the daytime

Your event ticket does not include day visitor entry to the Gardens. Christmas at Kew visitors can purchase a reduced entry price for a day visit to Kew Gardens.
To benefit from the reduced-price Kew Gardens day visit ticket, it must be booked for the same day as your visit to Christmas at Kew.
All daytime visitors will need to exit the gates when the gardens close at 3.30pm (last entry 2.30pm) then re-enter at their allocated trail entry time for Christmas at Kew.

Carer tickets

Disabled ticket holders are entitled to one free ticket for an essential carer/companion.

Kew Members

Kew Members will be asked to supply their membership number at the point of booking to qualify for their member discounts. Members may purchase up to 14 tickets per household.

AT THE EVENT

For our younger visitors
For the young ones, the playful atmosphere of Temperate House will welcome you with a Victorian carousel, helter skelter and other children's rides. Don't forget to make time to see Santa and his elves along the way. Rides operate 5pm to 9.45pm and cost £3 per ride / or buy 6 tickets for £15. Ride tickets can be purchased in advance with your entry ticket.

Food & Drink

A wide range of seasonal food and drink will be available at the event and Kew's cafes at Victoria Plaza and Pavilion Bar and Grill will be open.

Shopping

Browse Kew's well-stocked gift shops at Victoria Plaza and Pavilion Bar and Grill for your Christmas shopping.

GETTING THERE

Please see kew.org/christmas for full travel information.
We strongly encourage the use of public transport.

Arrival

Please arrive at Kew Gardens at the start time stated on your tickets.

Other local parking

If you have not purchased reserved parking at Ferry Lane Car Park, local parking is otherwise limited and we suggest you allow extra time to find a space.

limited availability at the National Archives car park from 6.30pm, bookable only in conjunction with 6.40pm, 7.00pm, 7.20pm and 7.40pm trail times from Victoria Gate.

Disabled access parking


Disabled access parking is available at Ferry Lane car park (TW9 3AF) with entry at Brentford Gate. Please select the disabled access parking option when booking your tickets for entry at Brentford Gate, as you will still need to pre-book your disabled access parking. All pre-booked parking is subject to availability.

Drop off/pick up

There is a designated pick-up/drop-off area on Kew Road (A307) between junctions of Lichfield and Holmesdale Road, approx 100m from Victoria Gate, the main entrance. The area will be coned off and will have signage to demarcate it.

ACCESS

The trail is just over 1 mile in length. Whilst the route is designed so that it can be solely viewed from tarmac flat paths, some interactive elements may invite the audience onto grass where additional pedestrian matting will be provided. Please see kew.org/christmas for full information on access.

What to bring and wear

This in an outdoor event. Please ensure you have sufficient warm and waterproof clothing. Visitors are encouraged bring a torch in case of an emergency. Children's scooters are not permitted on the trail.

Toilets

There are accessible toilets at the entrance to the event at Victoria Plaza, Victoria Gate and at Pavilion Bar and Grill and Brentford Gate which regardless of entry point will be start/end and mid-point of the trail.

Wheelchairs

Wheelchairs are available to borrow on a first come, first served basis.

Christmas at Kew is presented by the Royal Botanic Gardens, Kew and Raymond Gubbay Ltd, in collaboration with Culture Creative.