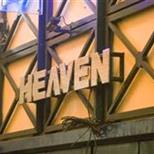 Tickets for events at Heaven, London
18+ PHOTO ID REQUIRED - PASSPORT OR DRIVING LICENCE Photo ID required for all ages of entry Heaven is located in the heart of the West End, very close to public transport links. Venue Rules - Current England & Wales Licensing laws are strictly enforced - Ticket holder may be subject to search - Tickets are non-refundable or transferable - Venue requests no bags allowed into the venue - The venue reserves the right to change the bill without prior notification. - Ticket holders consent to any filming and sound recordings as members of the audience - Ticket holders may be subject to continuous sound levels which may cause potential damage to hearing - Ticket holders may be exposed to strobe lights - Only official merchandise is on sale inside the venue, do not buy outside. This is for your protection so that you will receive goods of proven quality. - No 'professional' type cameras, video cameras or sound recording equipment will be allowed in the venue. - Venue advises that tickets are non-refundable and non-transferable. - Venue advises only customers in possession of a valid ticket will be admitted into the venue. Lost, stolen or misplaced tickets will not be replaced. - No re-admission policy is strictly enforced - No bottles, cans, alcohol or food is to be brought into the venue - No illegal substances may be brought into or taken on the premises. Any one caught in possession of such substances will be ejected form the premises and may be reported to the Police - Any ticket holder throwing drink and objects (beer, glasses etc) will be removed from the building and no refund given. Furthermore, customer details will be provided to the regulatory authorities should an offence be alleged to have taken place. - The venue management accepts no responsibility for acts of willful endangerment, or injuries caused thereby to yourself or other patrons whilst on the premises. - No weapons. The management reserve the right to define and confiscate - No ticket monies, booking fees etc will be refunded following ejection or refused entry. - No smoking anywhere within the venue complex - at it's discretion the venue management will allow smokers out of the venue. Management reserves right to refuse admission PLEASE NOTE: Drinking on the street is prohibited; any customer found in possession of alcohol will be refused entry to the venue and possibly detained for police action. This is a Challenge 21 venue. If you are lucky enough to look under 21 you will be asked to prove that you are over 18 when you buy alcohol. If you are under 18 you are committing an offence if you attempt to buy alcohol. The Venue adopts a neighbour friendly policy so please make as little noise as possible on leaving the venue.
By Tube
Heaven can be found between Charing Cross Station and Embankment. Several tube lines run through both of these stations. For further information please go to www.tfl.gov.uk
By Train
Waterloo station is the closest main line station with several national routes. The venue is a twenty-minute walk north of waterloo, across the Thames. For more information go to www.nationalrail.co.uk
By Car
It is recommended not to drive to the venue but use public transport instead.
By Taxi
Black cabs can be hailed alternatively private hire companies can be booked in advance. Please be careful as illegal taxis do operate in this area.
By Bus
Several bus routes operate along the Strand, which is a two minute walk from the venue. Routes - 6, 9, 11, 13, 15, 23, 87, 91, 138 and 176. To plan your journey visit www.tfl.gov.uk
Parking
There is no parking at the venue, public parking may be found close by but may be expensive.
Wheelchair Access
Heaven takes the needs of disabled customers very seriously. They are currently in the process of undertaking a further disability access audit and shall be reviewing the results of that audit with the aim of improving the access to Heaven as far as possible. However, at the present, if you have any concerns regarding personal access needs please email mark@heavennightclublondon.com or call 0207 930 2020 and a member of their team will be able to advise you further.